Global Village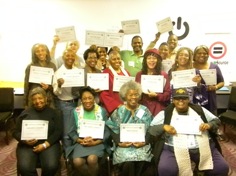 Click here to register for The Digital Elder Project, Sat & Sun, March 17 & 18, 2012!
School of Black Leadership in the Digital Age presents...
The DIGITAL ELDER Project
2-DAY Empowerment Retreat!
EmPOWER On-Line & in the African American Community!
Using the role of the traditional African elder as a guide, a Digital Elder™ is a role model who utilizes modern tools of 21st Century communication, to listen, nurture, guide, acknowledge, share wisdom and affirm (Byard, 2008).
**VISIT THE NEW DIGITAL ELDER BLOG HERE!**
Upon completion of the Digital Elder 2-day retreat, DE grads collaborate to produce a video podcast, sharing a critical message of inspiration and solution for the African American community.
ARTICLE: More Than A Computer Class-The Digital Elder Project Addresses A Rising Challenge in the Nationwide African American Community
THE NEXT DIGITAL ELDER PROJECT IS...
**NEW Location! @ Message Media Ed - School of Black Leadership in the Digital Age (4923 W. Adams Blvd. LA 90016)
Also, email This e-mail address is being protected from spambots. You need JavaScript enabled to view it or call 323-708-2526 for more info and to register via mail!
The DIGITAL ELDER Project is funded in part by the California Consumer Protection Foundation... thankfully! :)
Event Sponsors
VillageHealthFoundation.org
ConsciousFlowz.org
TheKeyInsights.com
GenuineHobo.com
JaneHannahMedia.com
Trueblaq.com

Youth/Adult Sponsors: Michael Massenburg, Crystal Allen, Khalif Williams, Diane Lang, Ngozi RA

Special Thanks...
Mrs. Angela Scott-Hill, Director of Los Angeles Urban LeagueWest Adams/Baldwin Hills WorkSource Center for providing the space we need to do this work;
Mrs. Robin M. Caldwell, Executive Editor of BlackWeb2.0 for sharing your wisdom as our special guest speaker;
Black Women for Wellness for partnering with us to provide free follow-up trainings in technology education.

 
 Digital Elder Graduation Pledge
"This [The Digital Elder Project] has the potential of a groundswell movement for reclaiming or youths' potential by connecting with them to motivate and inspire."
- Barbara Turner, Digital Elder graduate